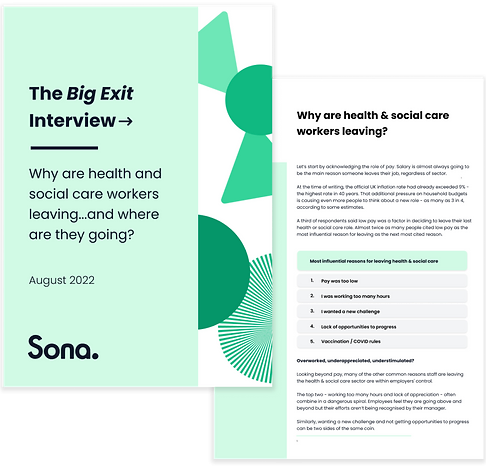 The Big Exit Interview
PUBLISHED: August 2022
Why are health and social care workers leaving... and where are they going?
The impact of the Great Resignation is clear. We see people leaving the sector, but less is known about where they're going and why.
So we surveyed 1,000 leavers for our report - The Big Exit Interview - and you can access the results right here.
About this report
We surveyed 1000 people in the UK between 21 and 28 June 2022.
All participants were pre-screened to confirm they have left a job in health and social care in the last 12 months.
The sample of 1000 responded to all 11 questions via an online survey conducted by an independent third-party research company.
1 in every 10 health and social care workers could leave the sector this year​.
Yes, this is a worrying trend. But it also represents an opportunity for care organisations to rethink how they support, engage and motivate their staff.
Download your free copy to find out:
Why are they leaving?
Where are they going?
Can they be enticed back? If so, how?