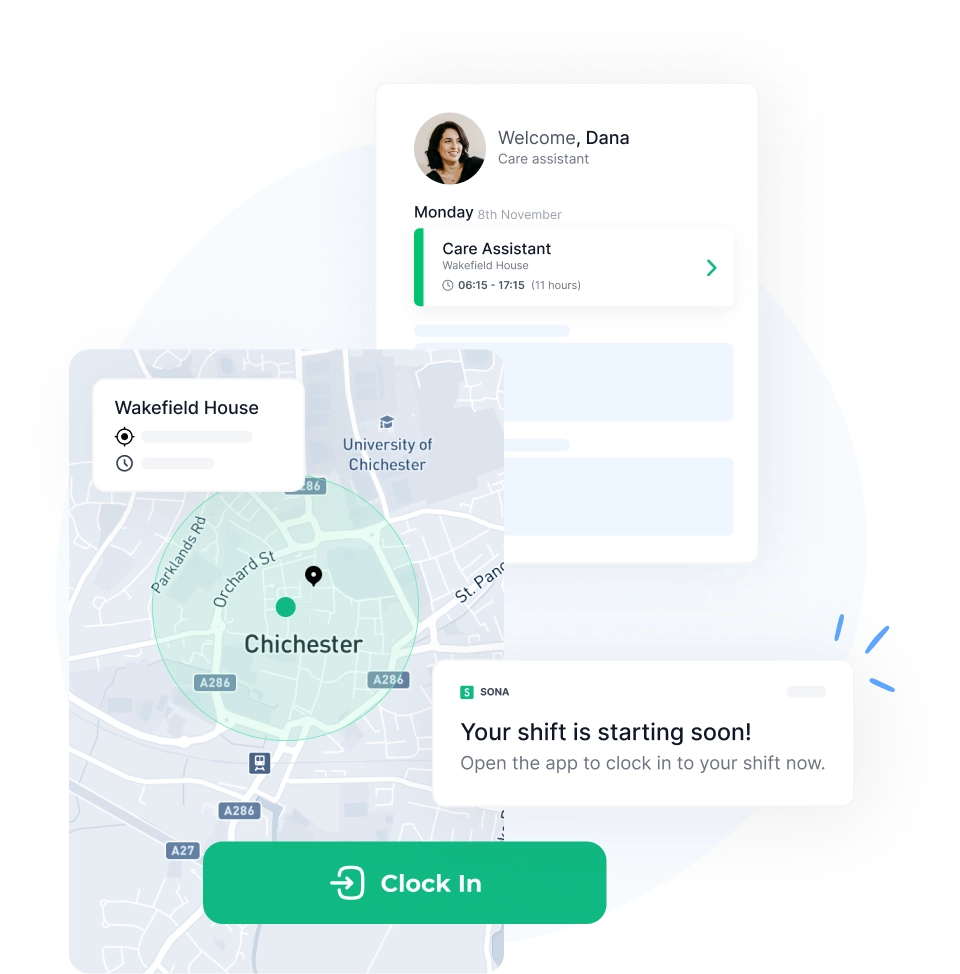 The accurate way to track time and attendance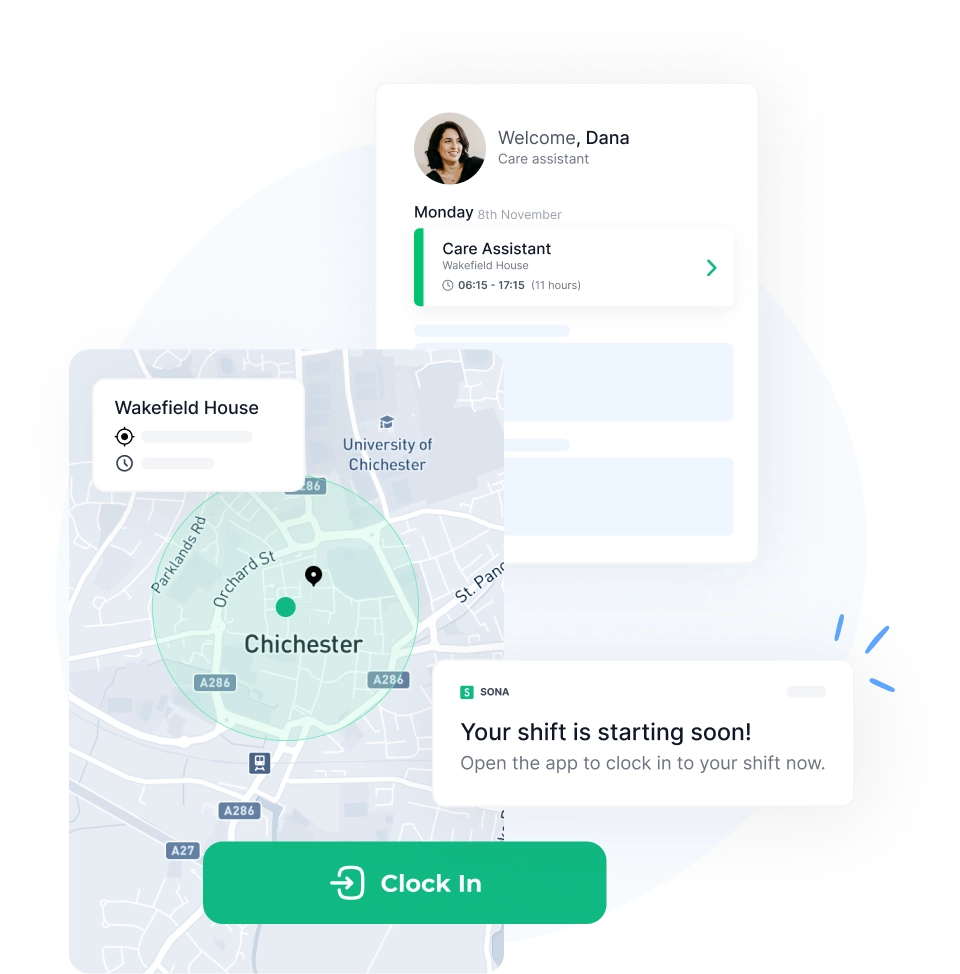 Simplify your processes and reduce payroll errors with real-time T&A.
App or kiosk-based clocking
Location verification clock in and out
Easy approval and exception handling for managers
Export to payroll
Book a demo
Used by 100,000+ frontline staff





The team at Sona were very helpful and incredibly accommodating to all our requirements, ensuring that we could roll out very quickly and with minimal effort needed on our part.
The system is very well used and is now in all our homes with great results, with not just financial benefits seen but colleague morale having increased as they can easily see their rotas and also pick up extra shifts as they want to.
Location-specific time tracking
In real-time.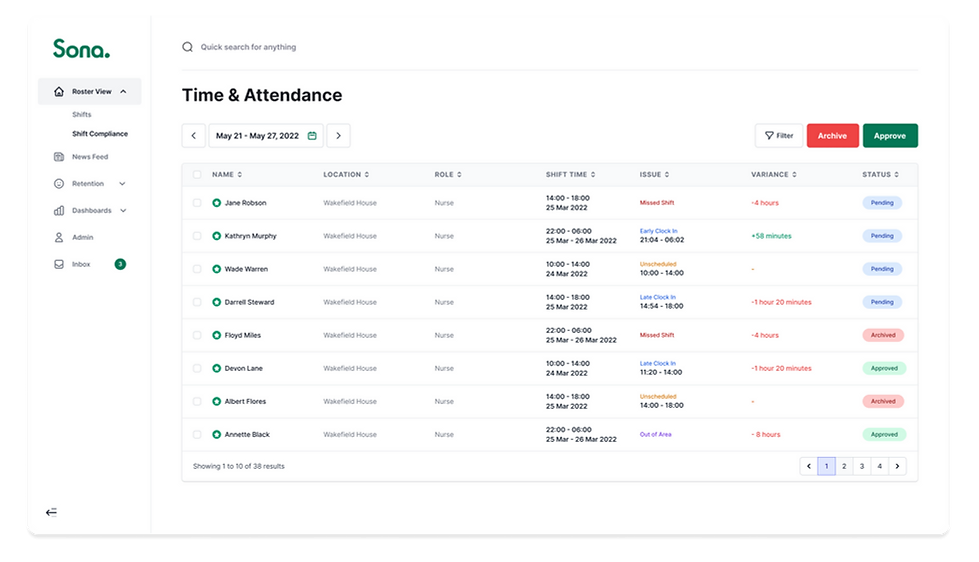 Time & attendance platform features
Make payroll easy and accurate with:
Location verification
Location-specific hours tracking makes it easy to trust your hours data with employees.
Easy exception handling
Our easy to use exception handling saves managers more than 5 hours per week.
ACCURATE HOURS AND PAYROLL DATA
Track rota compliance and contracted hours so you only pay for worked hours.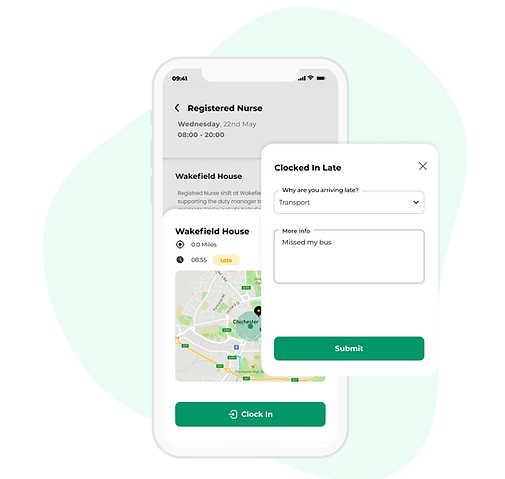 Geotagged time tracking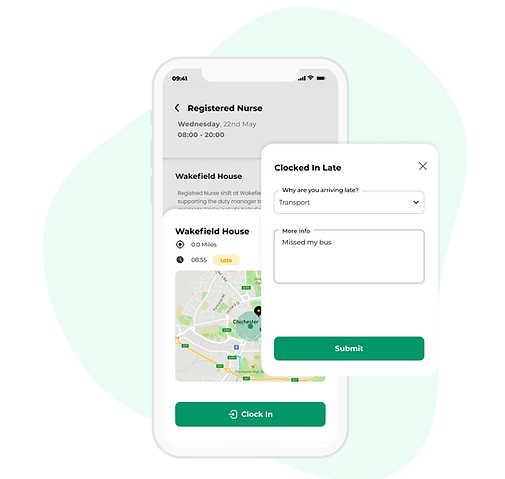 Our time tracking solution makes it easy for employees and managers to track hours across any mobile device or kiosk.
Our location-based time tracking technology ensures that managers will be able to see if employees were in the right location at check-in. If an employee checks in or out early or late, they'll be required to submit their reason for exception handling.
Book a demo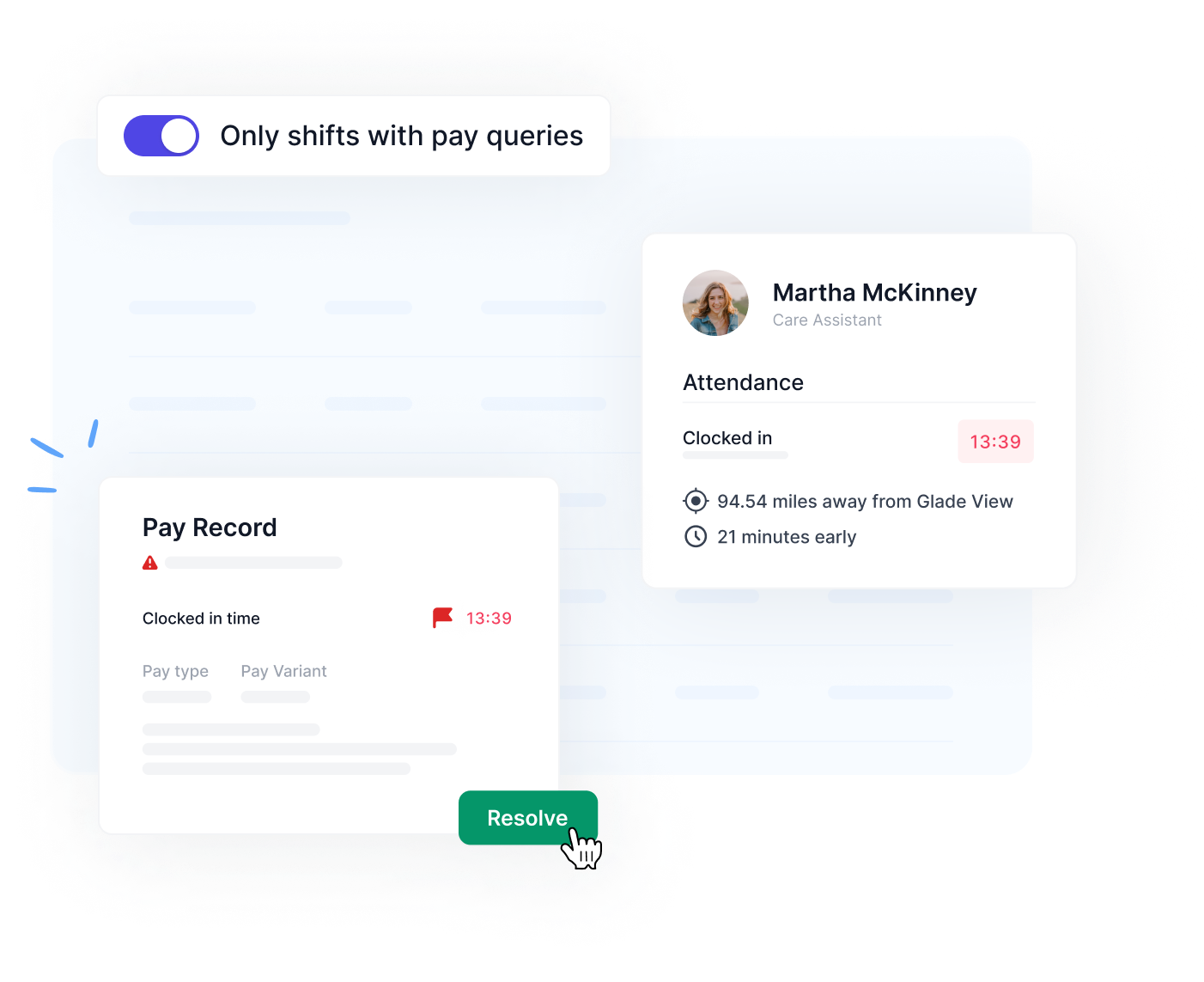 Easy exception handling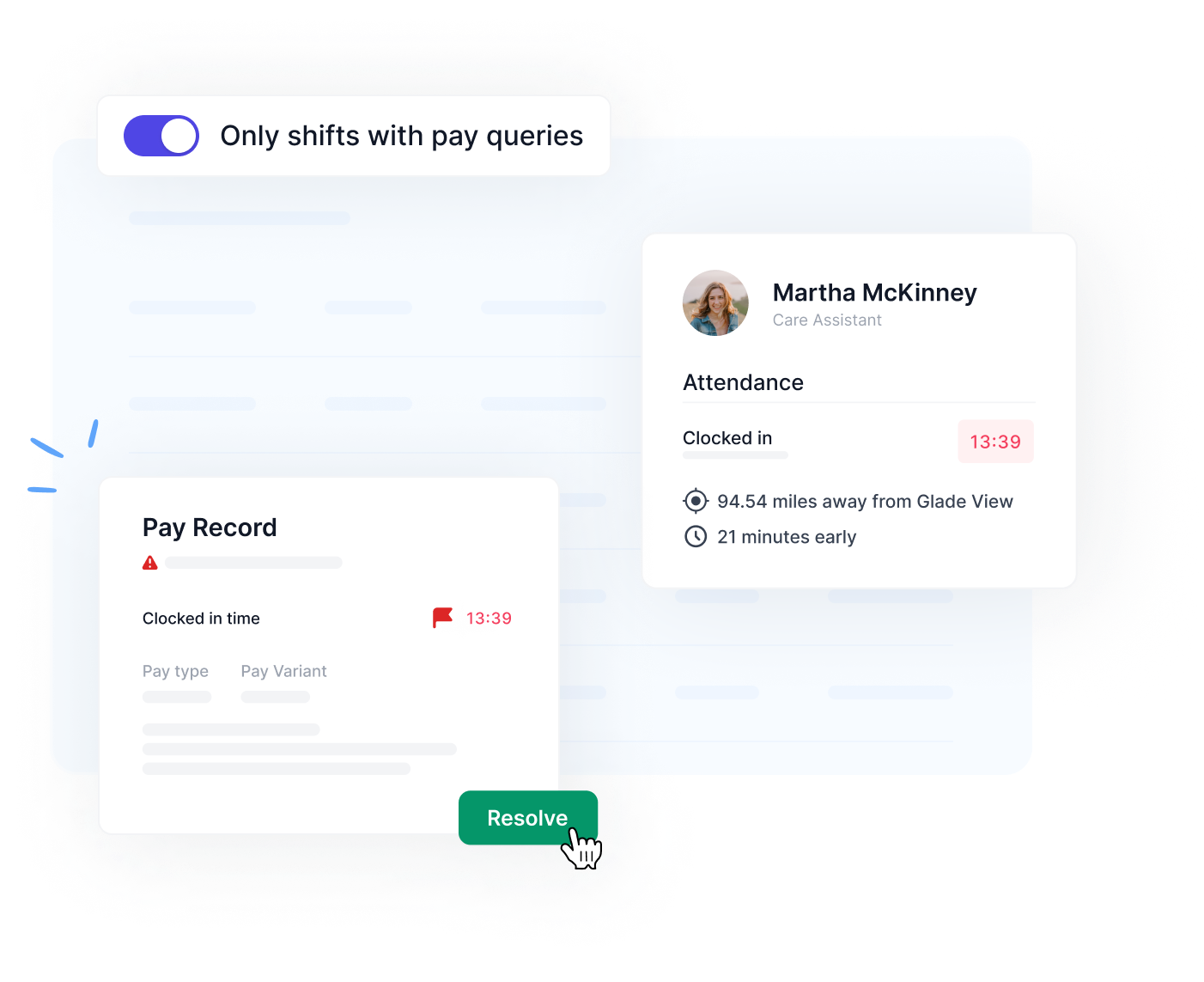 Did an employee clock in late? Were there unexpected changes to the rota? We make handling exceptions easy and quick.
Forget about old and time-consuming ways of checking and approving timesheets. Our user-friendly timesheets solution makes it effortless to check and approve timesheets in bulk or one by one.
Book a demo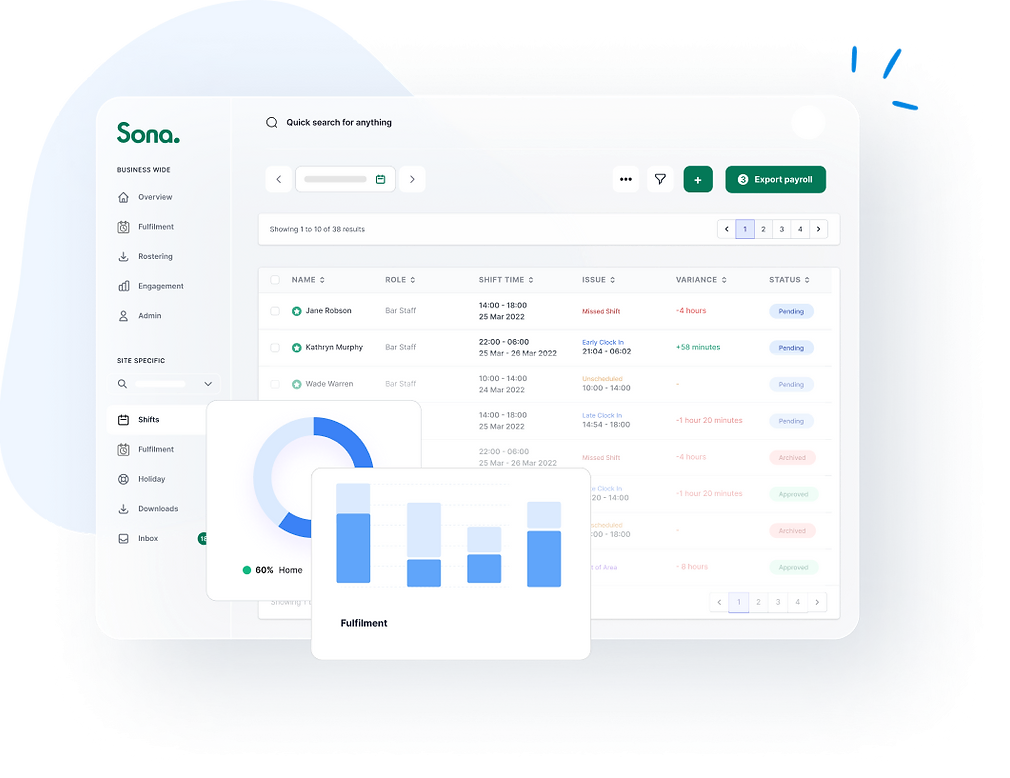 Accurate hours & payroll data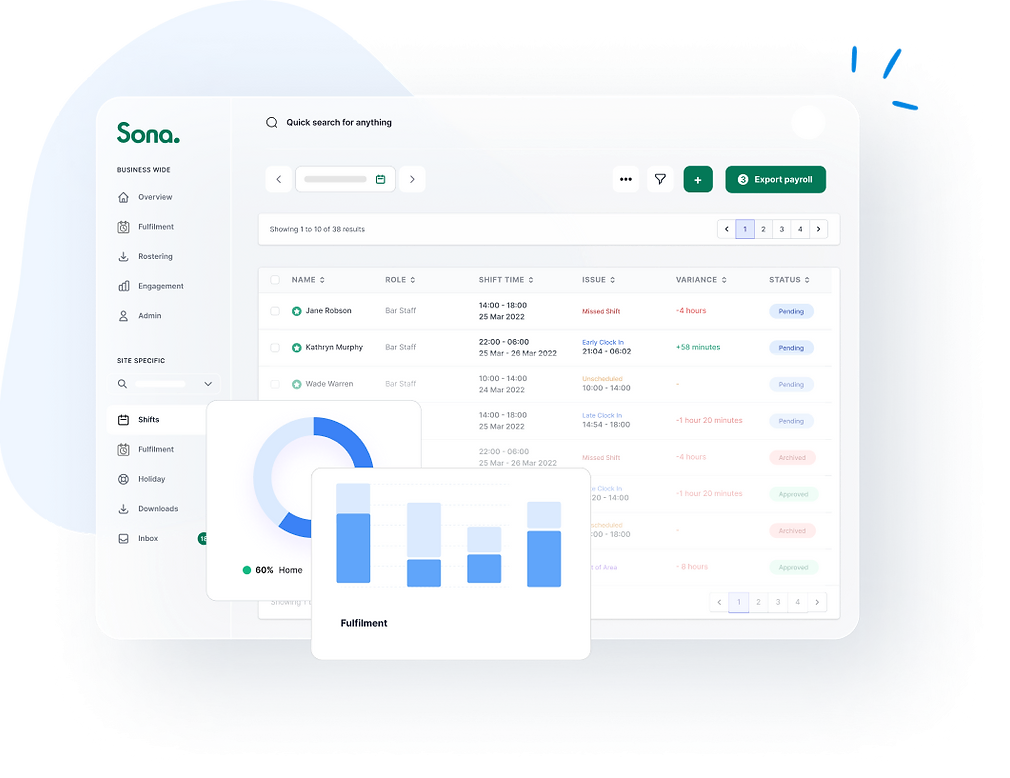 Don't pay for hours that weren't worked.
With real-time hours tracking, you'll never be paying for hours that weren't worked. We help you simplify and optimise the payroll process by giving you access to real-time data in the Sona data suite. See reports, manage exceptions and export to payroll all in one intuitive interface.
Book a demo
Sona integrates with your favourite systems
Get more out of your existing systems by connect them to your workforce through the Sona app.
What are the benefits of using app-based software for recording time and attendance?
It makes it easier for staff to track their hours as they go. Being able to clock in and out with a tap prevents guesswork, and they're less likely to forget to log their hours.
That means overall hours reports are more reliable, and your payroll is more accurate. Only pay for the time that's been worked.
It makes managers more productive. The hours logged by their teams and the reasons for any differences between scheduled and worked hours are always available to them in the system - no need to spend time chasing down explanations or missing timesheets.
Instantly access live attendance records - know exactly who's in the building in case of an emergency.
Can Sona's time and attendance software integrate into our existing payroll?
Yes, Sona integrates with a range of payroll software providers. Your time and attendance data can also be easily exported in a number of formats, too.
And if we don't have an integration with your system set up already, we'll custom build it for you.
Can staff clock in on-site if they don't have the app?
Yes. We can provide on-site kiosks on request (iPad or similar tablet) which staff can use their unique passcode to clock in and out.
Sona makes it easy to see who is onsite at all times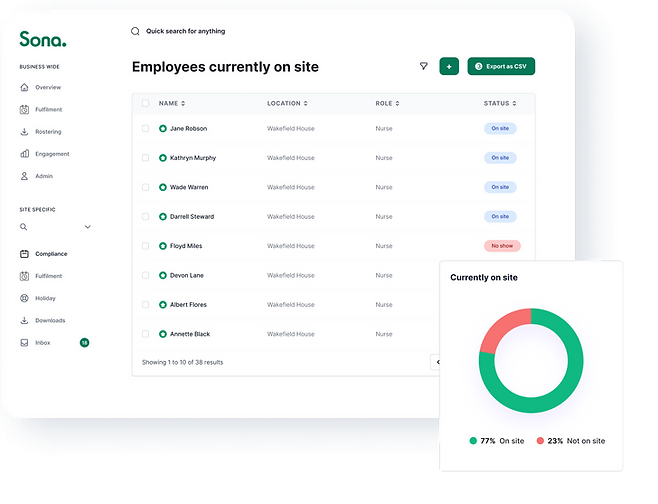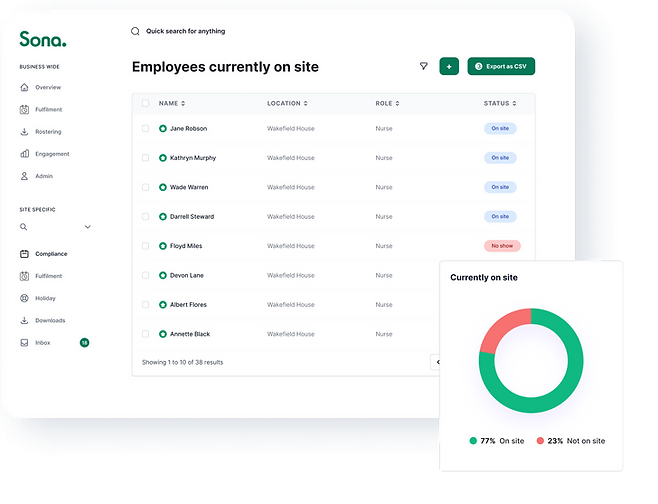 Sona's real-time Time and Attendance system makes it easy to track who is on site at all times.
Whether you want to access historical reports for compliance purposes or see current site attendance for fire safety, we've got you covered.
Book a demo
Ready to see a short demo?
Select a time to speak with our friendly team.