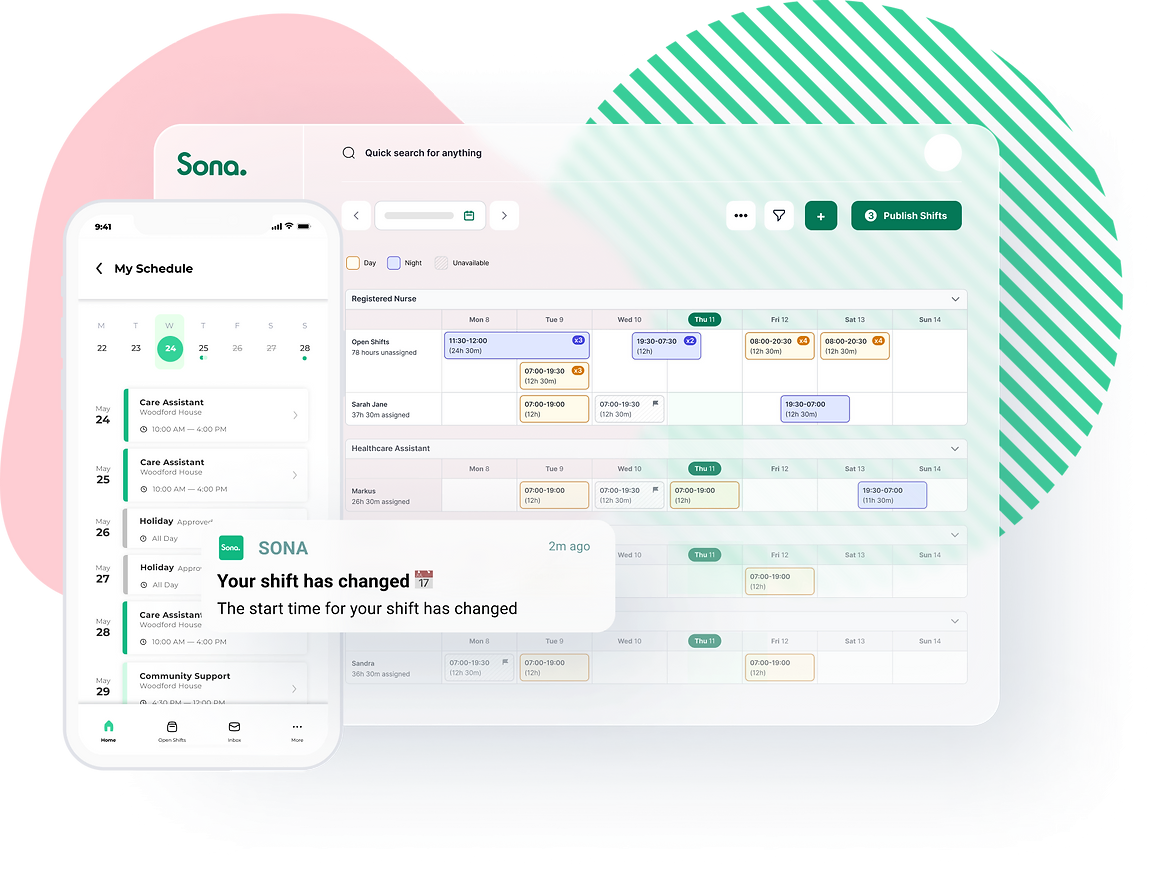 Why Sona?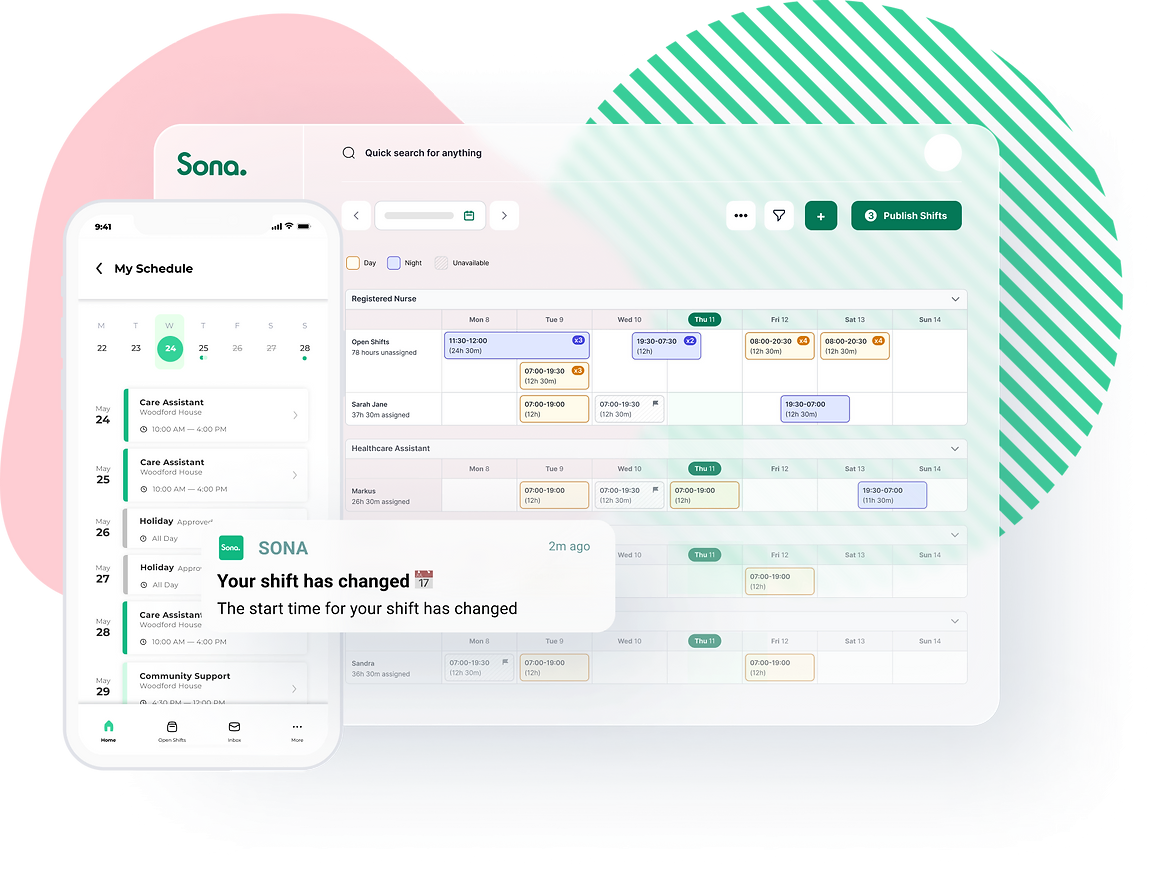 Our goal is to be THE Frontline Operating System for Social Care workforces.
We could go on for hours about how our product and approach differ from other providers. Instead we have summarised key points in the table below.
If you have any questions about how Sona can help you and your organisation, don't hesitate to get in touch with one of our friendly Growth Specialists - we would love to help!
Book a demo
Select your role type
| | Other workforce management providers | The Frontline Operating System |
| --- | --- | --- |
| I would like to work with a trusted partner with expertise in Social Care. | Many providers are either industry agnostic, or so specialised that they lack flexibility and struggle to keep pace with changing needs. | We hear you. Richard, our Head of Product, worked in Social Care for 10 years before bringing his experience to Sona. We know that Social Care organisations have very specific needs, so we have made Sona highly configurable. All our modules and features reflect the needs of modern care organisations. |
| How easy is it to use the employee app? | Some apps are not very user friendly, making simple tasks tricky to perform. This results in employees getting frustrated and not engaging with the product. Also, many providers don't have dedicated apps for iPhone and Android. | Our user experience and design teams carry out regular research and testing with Social Care staff. Sona's intuitive design and mobile-first approach ensures that the app's interface is very easy to use. |
| How do my employees see which shifts are available? | A lot of WFM providers only enable shift swapping. Staff who might be willing to take on more hours don't have full visibility which has a negative impact on engagement and retention. | All employees have fair and equal access to overtime through an internal 'shift marketplace'. This boosts employee engagement and retention, and makes finding shift cover easier for managers. |
| How can we fill more shifts with our existing contracted staff? | When shifts are rejected, there is a waiting game for managers and employees to agree who can do what, when. This inefficient process can make it challenging to maintain a full roster. | Sona is custom built for this purpose. Managers can post a shift to the internal marketplace and set parameters for employees to claim it - regardless of their location or job title. |
| If we need to fill shifts with external agency staff, is that just as easy? | Other providers differentiate contract types for internal employees only. Using external staffing agencies often requires manual workarounds or multiple systems. | It is just as easy to put a shift on the marketplace and allocate it to your approved agencies or even an individual agency worker, as it is for your internal staff. |
| How easy is it to find shift cover? | Employees get notified of available shifts only when asked directly by their colleagues. | Our Shift Filler is unique to the market. It is a 'shift marketplace' that shows employees all available overtime shifts they can claim in seconds. This saves hours of managers' time contacting employees. |
| How do you handle multi-location or multi-department rota management? | Managers usually can only view one location or one department at a time. | Sona enables organisation-wide visibility. We display on a manager's rota when staff are working at another location. |
| How can I track external agency costs? | Most providers do not offer reporting for agency spend. The best solution tends to be manual data exports which are often painstaking to set up and manage. | You have come to the right place! Sona's dashboards and analytics are unrivalled and enable you to run accurate reporting and forecasting. You can easily see external agency spend by timeframe, agency, shift types and shift times. |
| Reporting is key for us - are you able to send various data sets to our data warehouse? | Data sets are often structured in a way which is difficult to import and analyse. | Absolutely! We are very flexible and can send the data via API in any table format that you prefer. We believe that the power is in the data insights (rather than the data itself) and will support you along the way. |
| Everyone says that they will integrate with our existing providers but how can I be sure? | Standard integrations are possible but often aren't included as a standard option. Open APIs aren't common, either. | We have supported all of our customers with the integrations they need for Sona to work seamlessly with their existing systems. Sona has open APIs to make it easy for other software providers to work with us. So whether it is Single Sign On, Care Planning (we're a Nourish partner), HR, Payroll, we are happy to help! |
| How will you support us during the roll out? | Other providers offer FAQs and live chat during business hours. Some offer Customer Success Managers for their larger customers. | We have dedicated Implementation Managers who will be with you every step of the way. As well as setup, onboarding and training, we also provide dedicated FAQs, support videos and drop in Q&A sessions. Our Customer Success team will continue to support you post roll-out, too. |
| Employee wellbeing is important to us. Can you help us with that too? | Legacy WFM systems tend to lack wellbeing tools, or only offer these through partners. | Sona has dedicated features to help you monitor and improve employee wellbeing and retention. |
See how much people love Sona


The app we have waited years for! Sona has been a time saver and a stress reliever.


It has helped so much with rota management now that we are not chasing staff for their availability, instead we are posting shifts and it is up to them to take shifts as and when.

In addition to saving 38% in agency spend, our managers are also saving 5 hours per week in admin.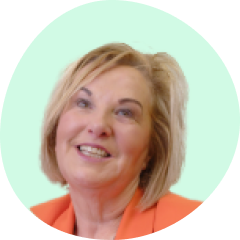 Rosemary Doherty
Ops Director, Praxis Care

We cut agency hours by 63% within the first three months of using Sona.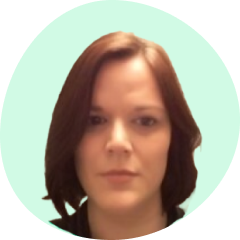 Claire Kennedy
Head of HR, Advinia Health Care

They have listened to our requirements and frustrations with current systems and worked with us to provide a system that will work for our teams and us.