Resources
Stories, insights and more on getting the best from your frontline workforce.
WEBINAR: Employee Empowerment: How tech can help your staff deliver better care
Took place at 1pm, 9 March 2023


Nuno Almeida, CEO of Nourish, Geraint Thomas, Director of Guided Innovation, and Oli Johnson, Co-founder of Sona, discuss how new technologies can support frontline teams to provide the best care possible and explore the growing importance of employee empowerment in modern care delivery.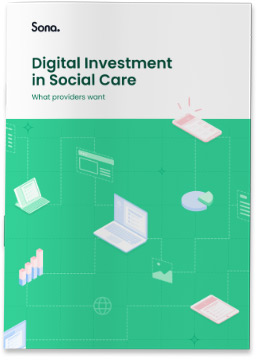 Digital Investment in Social Care
April 2023
The digital revolution has arrived.
We asked 250 Social Care leaders about their attitudes towards digitisation and their plans for the next 12 months - and you can access the results right here.
Q&A: How to claim up to £600k for your digital transformation project
18 May 2023
There is a relatively unknown grant available to support care providers to digitise that can cover a range of software, hardware and services - including e-rostering.