The transformational 'people OS' for frontline teams - announcing our $7m seed funding
We're all doing happy dances at our desks as we can now reveal that we've completed our $6.8m seed funding round, led by Google's Gradient Ventures.
How it started; how it's going
When we started Sona less than nine months ago, we believed the growth of dedicated software for frontline staff would be as transformational as the software-as-a-service revolution in the world of desk-based work.
It hasn't taken very long for our customers to prove us right. They are achieving six-figure annual cost savings and improving team engagement by:
filling over 70% of their available shifts in under 24 hours without resorting to agency staff

cutting staffing agency spending by more than 35% as a result

saving managers 5+ hours a week so they can focus on what matters most to them and their teams and service users

streamlining shift and operational communications for staff, improving access to overtime and helping them preserve work-life balance
Word is spreading. We've grown rapidly thanks to the trust put in us by leading organisations across the frontline industries Sona is designed to serve. Here's what Aidan Daly, Director of HR & L&D at Praxis Care, had to say about our impact:
"The beauty of the product is that employees who are rarely at a desk are able to pick up shifts, book leave and have control over their working patterns all through their mobile devices. Sona has the added benefit of reducing the time managers spend in developing and filling rosters allowing them to focus on what they came into Praxis Care to do - support vulnerable people to live as independent a life as possible in the community. I believe Sona will revolutionise how we manage our rosters, providing our employees with more visibility and control over the shifts they want to work."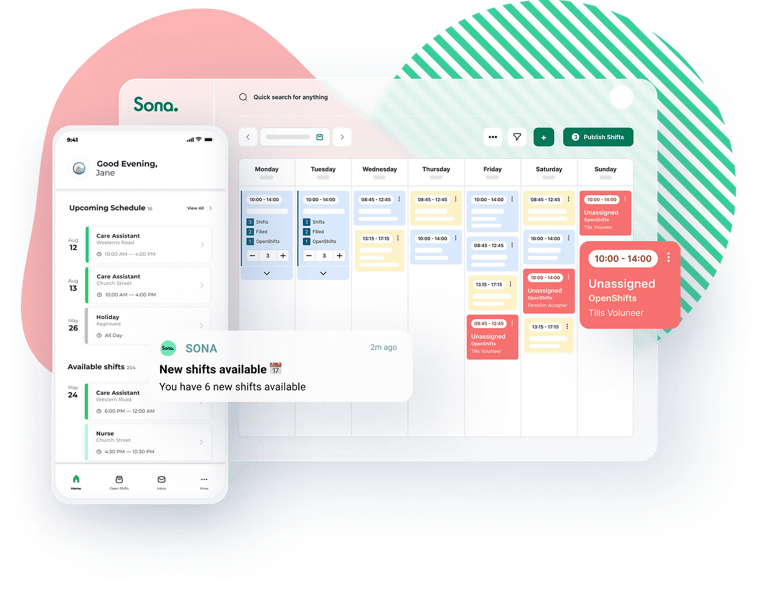 World-class backing for a world-beating product
More than 10,000 deskless workers in the UK and Ireland already use our employee app. That experience hasn't just given us loads of valuable insight into how else we can help them and their organisations. It's driving us to go further, faster.
This new funding will supercharge our growth. We'll be investing heavily in engineering and product development to deliver even more new features.
Backed by Google and led by experienced company founders, Gradient's ethos and expertise were a perfect match. Their portfolio is full of great companies we've admired for some time, too.
We'd like to welcome Gradient and our brilliant new angel investors to team Sona and thank our returning investors - including Speedinvest - for their continued support. We're also delighted that Asif Moosani (Gradient), Darian Shirazi (Gradient) and Markus Lang (Speedinvest) are joining our board.
WFM systems were designed for white-collar industries. As a result, these tools ignore a vital part of society – the frontline worker. Scheduling, shift management, and surrounding communications are just the tip of the iceberg when it comes to the Great Resignation. We're excited to back Sona as they bring this ecosystem into the digital age.

Asif Moosani - Investor, Gradient Ventures
Can you help us take Sona to the next level?
No matter when you read this blog, the chances are we're hiring! We expect our team to triple in size this year.
We're always on the lookout for incredible people who want to build a product and company that can truly make a difference. Find out more about what it's like to work at Sona and browse our open roles here.
It's going to be a fun ride!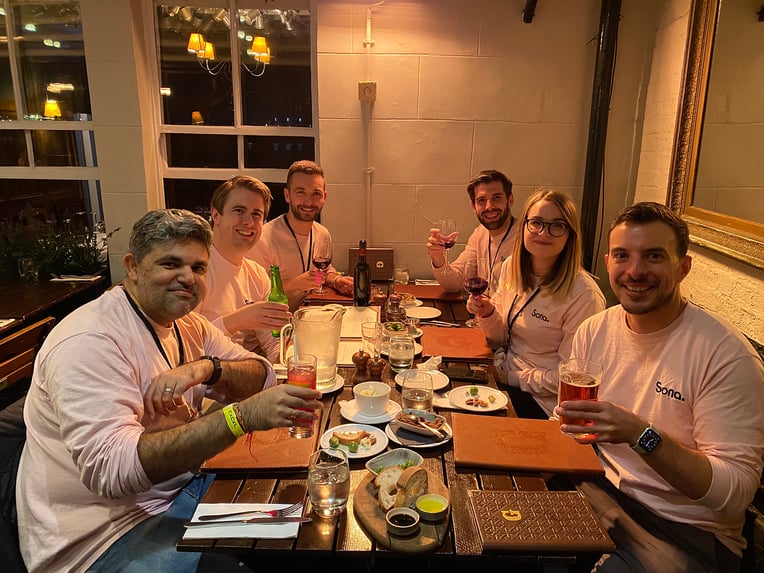 Enjoyed this article? Let's stay in touch 👋
If you liked this article, why not subscribe to our newsletter to get the latest news and views delivered straight to your inbox?