Social Care, Retention, Report
Report: Rethinking Retention 2022
We surveyed 750 UK-based employees in the care sector to find out how they feel about their current work situations and what matters most to them when making job decisions.
Rethinking Retention explores:
The most important influences on staff satisfaction

Three key areas to focus on this year

Ideas and tools to boost engagement and retention​
Download your free copy here.
This first blog in our Rethinking Retention series
Why staff retention will be even more crucial in 2022
The staffing crisis in care may have made more headlines recently, but it's nothing new. According to CQC estimates, the baseline vacancy rate has remained above 6% for six years. In December 2021, the rate reached 12%.
What has changed is the addition of uncontrollable factors - most notably the pandemic and Brexit - that have made it harder for providers to retain staff.
Understaffed, overstretched, not paid enough.

Former care support worker
In November 2021, the Nuffield Trust reported that 70,000 adult social care workers had left the sector over the previous six months - 4% of the total adult care workforce. Increasing churn in an industry with a long term recruitment challenge is a worrying trend. Unfortunately, our survey results suggest that things are likely to get worse at the start of 2022 before they get better.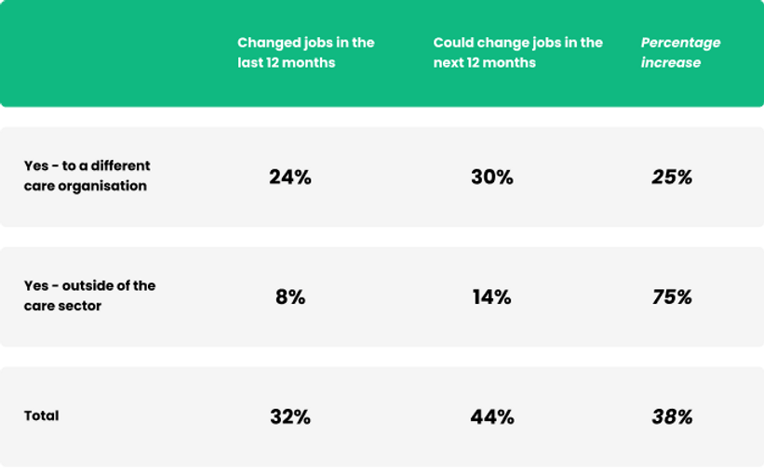 14% of respondents said they are thinking about leaving the sector altogether. Hopefully, this level of intent will not convert into action, but it's a clear indicator that staffing levels are not yet close to stabilising.
With the overall labour market currently squeezed, care providers will be looking to ease the burden on their recruitment teams by doing everything in their power to retain their existing staff.
Skills for Care notes that, while the overall sector turnover rate is high (28.5% in 2020/21), turnover at the best performing employers doesn't exceed 10%, For an operator with 2000 staff, going from average turnover to industry-leading would mean retaining 370 more staff each year - a potential saving of over £1m.
The good news? Our research shows that the most important contributors to happiness at work are all things employers can control:
| | |
| --- | --- |
| ​Would the following factors have a positive impact on how you feel about working for your current employer? | |
| ​More recognition from management | |
| ​Better internal communication | |
| ​Having more freedom to choose your working patterns | |
| Better mental health support for employees | |
| Greater visibility of my upcoming schedule/hours/holiday | |
Forward-thinking operators are rapidly adopting technology and new working policies and practices so their staff feel more valued and supported.
Learn more at https://www.getsona.com/rethinking-retention
Enjoyed this article? Let's stay in touch 👋
If you liked this article, why not subscribe to our newsletter to get the latest news and views delivered straight to your inbox?