Your Guide to Frontline Workforce Management
Workforce management (WFM) can seem like a daunting prospect involving lots of different processes, but the core goals are clear: efficiency, integration and communication. Learn all about WFM with this, your ultimate guide to WFM.
What is frontline workforce management?
Workforce management empowers employers to strategically allocate people and resources, manage attendance and comply with employment law and other regulations to increase productivity and optimise the way companies run day-to-day operations.
Getting that process right is vital to any business, but is even more important for organisations with frontline employees who are often less connected to leadership and have traditionally had less access to company information and digital productivity tools.
Given the complexity of frontline people operations, WFM has become increasingly digitised, with a growing range of software and apps replacing paper and Excel spreadsheets.
However, workforce management systems aren't isolated solutions, it's more of an ongoing cycle. Once implemented, it should run continuously to ensure the optimal performance of company operations.
Workforce management processes
A complete WFM system is usually made up of seven key components:
Staffing - ensuring optimal headcount skills and experience among employees.. If WFM is about assigning the right people to the right roles, optimising the composition of your workforce is an excellent place to start.
Forecasting - informed predictions about demand and corresponding staff requirements. This involves the analysis of existing data to forecast future labour demand, aligning customer demands with staffing and resource requirements.
Scheduling - effective and well-communicated shift scheduling and good management of shift changes. An integrated system or platform is key to effective scheduling and managing all aspects of the roster, including overtime and filling vacant shifts.
Time tracking

-

an accurate record of the time employees spend at work, and how much time is going into different tasks and projects. For frontline roles this can also mean tracking travel and break times.

Communication

-

ensuring critical information is shared and seen by the people who need to know.Business communication should be as goal-oriented as possible. This might mean enabling integrated task management, increasing transparency or improving employee engagement through the use of a shared internal communications platform.

Empowering employees - to have a say in their hours/shifts can also increase both employee satisfaction and engagement rates.
Performance analysis

- the monitoring of target fulfilment by checking adherence and average handling time. It's also about understanding employee engagement levels and

rewarding well-performing employees

.

Reporting

- efficient reporting processes and accurate feedback from teams and team managers. This enables continuous improvement over time and gives the organisation reliable data to inform future decisions.
What are the benefits of frontline workforce management software?
1. Recruiting
Integrated WFM tools, like applicant tracking systems (ATS), can be extremely useful to the recruitment process–alleviating some of HRteams' most common challenges.
They allow you to keep track of hiring stages and important documents, work out where a potential candidate's skill set might fit in with the current workforce, and estimate the value they could bring to your organisation.
2. Onboarding
Onboarding is a critical step in successful hiring and staff retention.
It shouldn't be about simple orientation but long-term sustainability. An effective onboarding process is all about clarity and good communication, two of the main goals of a WFM system.
With an effective system already in place, onboarding new employees becomes a much easier, less time-consuming process. A better understanding of employee output also makes it easier for employers to adjust initial training and coaching to maximise individual performance.
3. Employee engagement
WFM doesn't just give employers insight into employee engagement, but actively helps them improve it.
There are plenty of ways to increase employee engagement, but effective resource planning is a good example. WFM systems help employers match shifts tasks to an employee's specific skill set and preferences, increasing both productivity and worker satisfaction.
WFM systems also help create an environment of self-responsibility, and the opportunity for self-development by empowering employees to have a say in how they work. Offering employees a level of control over their working lives is a sure way to boost engagement.
ICompanies with high employee engagement are 21% more profitable on average.
4. Performance management
A comprehensive workforce management system can help employers to identify and focus on factors impacting employee performance, assessing work over a period of time.
This might include:
Supervising remote worker output
Optimising working hours
Control over overtime costs
Monitoring employee efficiency
Strong feedback loops with team leaders
5. Retention
WFM systems also promote higher levels of staff retention, especially in high-stress work environments.
Particularly for frontline staff, streamlined scheduling and good team communication help alleviate unnecessary pressures and, ultimately, reduce staff turnover. Keeping staff churn low in health and social care systems is crucial, particularly in the face of the post-pandemic Great Resignation.
Workforce management software
WFM software is designed to streamline, optimise, and automate many aspects of people management and people operations. .
This software usually provides all-in-one solutions for digitising administrative tasks, keeping track of employee output, and providing effective reporting.
The latest, modern WFM systems include self-scheduling features which let employees manage their shifts and days off themselves with little or no need for manager input.
Rolling out new technology to your employees can be complicated, particularly in large companies with distributed teams. However, with enough preparation, a phased approach, and constant support, it doesn't have to be painful.
Optimise operations using a workforce management platform
A digital platform helps keep track of your workforce, keeping your employees connected, and instantly up-to-date. Maintaining clear communication between frontline and office-based staff is a foolproof way of increasing productivity.
These features are particularly important for large organisations with time-sensitive and critical work.
Sona provides a WFM solution for health and social care workforces, trusted by more than 30,000 frontline staff.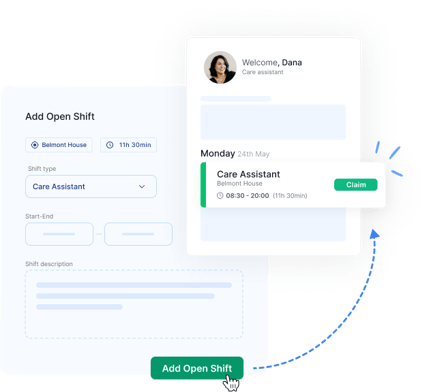 Functions and features of a mobile workforce management platform
Accessibility
Modern WFM software like Sona should bw designed to be compatible with mobile devices, enabling instant updates and ensuring optimal coverage. Sona has an
Automatic Rostering
Using dynamic templates to rapidly populate rosters and bulk-assign shifts, these platforms can offer an appealing alternative to manual shift-filling.
The benefits of cloud-based shift scheduling software are numerous: streamlined timetables and increased accessibility are making it an ever-popular option.
Flexibility
With self-scheduling options for employees to fill in shift preferences, staff flexibility is vastly improved, as well as employee satisfaction.
With the platform's specific working-time framework, employees are given more freedom to choose when they work.
Analytics
With digitised data and real-time visibility into scheduling and attendance, managers can intercept potential issues before they become real problems. The data can also be used for KPI reports which examine workforce performance.
Challenges of traditional workforce management solutions
Keeping track of employee attendance
With manual systems, it's difficult to keep 100% accurate records of who is present when, especially in larger companies.
Under-contracting may well be costing your business a lot of money, so staying on top of these numbers could make a real difference.
With Sona, you can keep track of every single shift change, with a mobile time-clock and easy exceptioning for managers, as well as effective absence management tools.
Time-consuming, error-prone payroll
With WFM platforms like Sona, you can implement one-click payroll reporting, a game-changer for lengthy payroll processes.
Using to-the-minute cost control, these systems consider both planned and unplanned absent days and overtime shifts, so that every employee is receiving the pay they are entitled to.
Document management
In traditional systems, handling sensitive and important documents can be a complex issue. WFM software can retain the relevant workers' documents for the duration of their employment, making sure they're accessible to the right people and kept confidential if necessary.
Increase employee and customer satisfaction with effective workforce management
Ultimately, the success of a business largely depends on its workforce management. Clear operational systems and accurate pay is a major determining factor of employee satisfaction.
This leads to a virtuous circle: satisfied employees are more engaged, which means that they work more productively, in turn encouraging a more profitable business.
Calculate how much ROI (Return on Investment) you could make by switching your current WFM process to Sona's award-winning management tools.
Enjoyed this article? Let's stay in touch 👋
If you liked this article, why not subscribe to our newsletter to get the latest news and views delivered straight to your inbox?