Insight, Social Care, Retention, Engagement
Why it pays to open the 'black box' of how staff feel at work
Many organisations only discover how staff really feel once it's too late. Too many issues only surface after they go on sick leave or quit.
But it doesn't have to be this way - read on to discover how technology can unlock real-time insights into your teams' emotional wellbeing and turn this data into a competitive advantage.
Why every organisation needs a 'black box' of engagement data
Comparing employee engagement with the near-indestructible flight recorders installed on planes may sound extreme (they're actually orange, by the way). However, there is a similar principle behind both - long-term improvement is only possible if we take steps to access and analyse as much data as possible.
An annual survey can't break the cycle of employee demotivation, dissatisfaction and churn. Instead, employers need frequent (ideally real-time) feedback on how staff feel at work if they want to tackle preventable turnover.
Here's why:
The labour turnover rate in the adult social care sector was 28.5% in 2020/21 (Skills for Care) - 90% higher than the UK average

Just this month, it was reported that the number of filled social care vacancies fell for the first time in a decade

Our research found that 44% of care sector staff are thinking about leaving their current employer this year

More than 1 in 4 will raise concerns about their role a maximum of once before quitting (1 in 10 will quit with no warning!)
It's not just a truism - retention is the highest impact recruitment strategy. And that requires a proactive approach to sourcing, and acting on, staff feedback.
P.S. We have lots more stats and helpful information on employee retention - including our Rethinking Retention report - in our resources section.
What are the benefits of frequent employee feedback?
Organisations can generate tremendous value by instilling a solid feedback culture across their teams.
Lower voluntary turnover
Increasing feedback frequency creates a more effective 'early warning system', highlighting issues that could cause team members to want to leave if not addressed in good time.
Keeping more of your people is great for operational efficiency and continuity. However, it also has significant financial value.
For an operator with 2000 staff, going from average turnover to industry-leading would mean retaining 370 more staff each year. It can cost as much as £10,000 to replace a leaver, but the savings are still upwards of £1m with a more conservative estimate.
Higher productivity
Teams that rank in the top 20% for employee engagement have over 40% lower absenteeism. And staff that feel that their employer listens to and cares about their views are more likely to feel empowered to do their best work.
Additionally, you increase the chances of discovering great ideas via your staff that improve your day-to-day operations or reduce costs.
Better recruitment
Happier, more engaged employees are more likely to make referrals and give their employer positive reviews on sites like Glassdoor.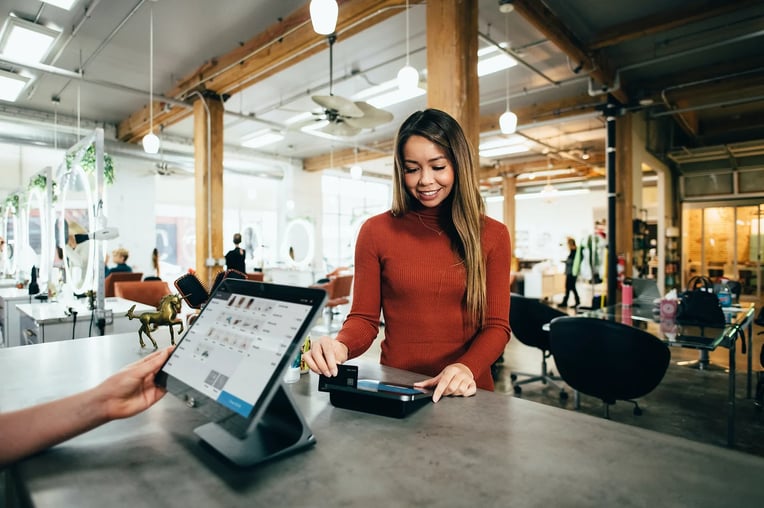 Technology can speed up the feedback loop
The annual staff survey was born out of practicality. Before the boom in cloud-based software, surveying frontline staff and collating and analysing the responses was too resource-intensive. Even quarterly surveys were a stretch.
Today, providers can tap into two massive cultural changes:
More than 9 in 10 people own a smartphone

The majority of us are used to companies asking for feedback digitally, whether that's on the web (Trustpilot), in-app (Uber, Deliveroo, etc.), or even while paying in-store
The result - it's never been easier to ask your employees for feedback on a much more regular basis. And for many, the most efficient way to engage with them is to do it on the device they use every day.
However, you need to put the right software in place to automate as much of the process as possible and avoid being overwhelmed by unstructured feedback.
It should also make the data easy to understand at-a-glance so busy managers can spot and investigate trends without having to get a PhD in Statistics first.
That's where Sona comes in.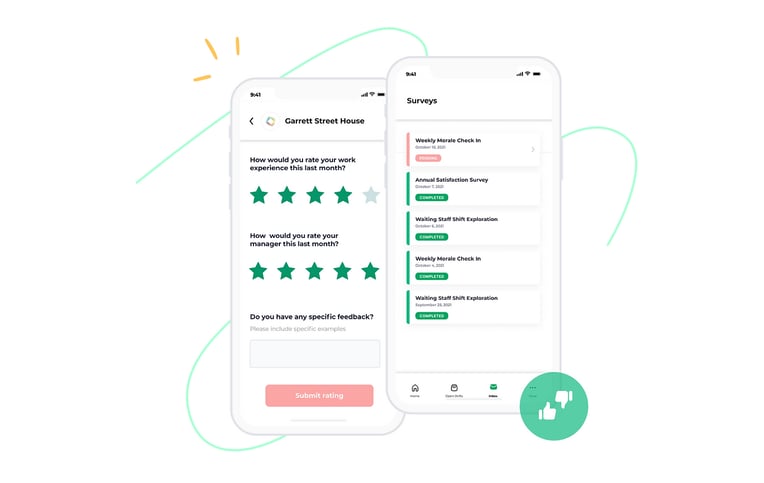 How Sona is integrating feedback into everyday tasks
We believe every employee can feel more empowered through technology. This belief is the inspiration behind our feedback features.
Rather than making feedback an add-on, we've embedded the feedback process into the everyday tasks staff perform on the Sona app.
For example, you can invite staff to complete a 'feelings check-in' after every 5th/10th/20th shift. As soon as they use the Sona app to clock out, staff are prompted to choose the emotions they are feeling at the end of their shift - "I'm fulfilled + tired".
If there are any specific issues they want to raise, there's a further option to message their manager with more details.
Managers can review all the feedback in their retention dashboard, showing how individuals and teams say they are feeling over time.
And whether it's feelings check-ins or bespoke pulse surveys, we've made feedback a fully integrated and customisable part of the Sona platform. Because it's no longer a nice-to-have - it's essential.
You can learn more about our full suite of retention features here.
Enjoyed this article? Let's stay in touch 👋
If you liked this article, why not subscribe to our newsletter to get the latest news and views delivered straight to your inbox?