Care Show roundup: 3 standout innovations to boost employee happiness and well-being
The 2022 edition of the Care Show was jam-packed with inspirational talks from leading voices across the sector. Here are our favourite new ideas for improving staff morale.
Once again the Care Show lived up to its reputation as one of the must-attend events of the year.
The 2022 edition was bursting with fresh thinking, particularly in the crucial area of employee engagement and well-being.
Here are 3 of the most innovative ideas showcased during an action-packed two days of talks and exhibits.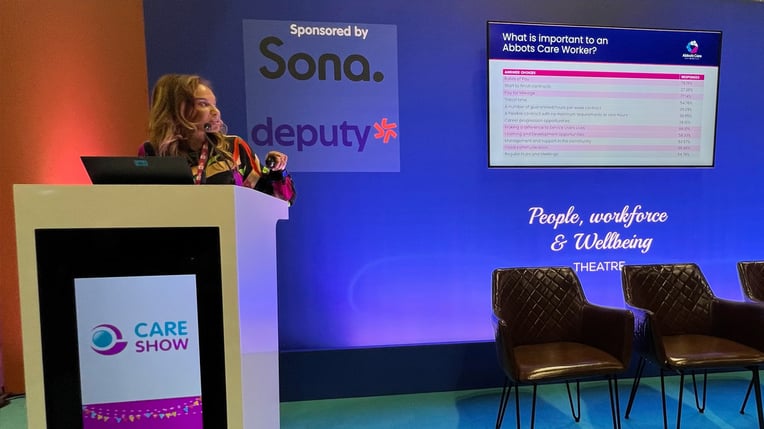 Camille Leavold, Managing Director of Abbots Care
1. Offer Care Worker Customer Service
What happens when you call to cancel your TV package or broadband provider? They redirect you to a specialist whose only job is to try and convince you to stay.
Camille Leavold, MD of home care provider Abbots Care, has adapted this concept for her 500-strong workforce. If a staff member indicates they're not happy at work for any reason, they get a call from one of Abbots' dedicated team to find out what can be done to fix it and improve their experience.
The Care Customer Service team also go out to meet colleagues, review their rotas and address any issues that may be preventing them from doing their best work or feeling 100%
This early intervention strategy is having a profound impact on retention at Abbots Care - they are holding on to 98% of new starters and aim for a staff turnover rate of 18% (less than half the average of 38% for home care).
2. Make well-being digital
Another innovation at Abbots Care is its well-being app which is freely available to all their staff.
As well as giving them access to well-being resources and rewards for a job well done, the app allows leadership and the Care Customer Support Team to monitor a number of wellbeing and engagement metrics, including job satisfaction.
The app also enables peer-to-peer recognition. Our Rethinking Retention report showed that nine in ten care staff would feel more positive if their contributions were recognised more often, making this a high-impact, low-cost solution to high turnover.
Abbots Care chose to custom-build their well-being app, but here at Sona it's great to hear about the amazing success they've enjoyed so far as we also offer this suite of tools as part of our integrated workforce management and scheduling software.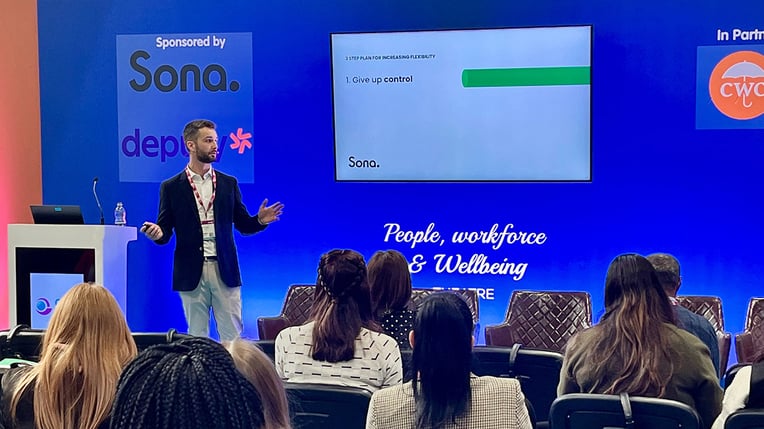 Sona Co-founder Oli shares his three-step plan for injecting more flexibility into care work
3. Appoint a Flexible Working Manager
A Flexible Working Manager will more than pay for themselves from the ROI that comes from enabling more flexible working, argued Oli, one of our Co-founders.
With social care providers competing for talent not just with each other but with other frontline industries, Oli believes that a flexible working revolution is needed to improve recruitment and retention and reap the financial benefits that come with that.
According to our new report - Flex Appeal - 58% of social care employees don't believe that work-life balance exists and 88% would be open to working more flexibly if their employer offered this option.
But enabling flexible working in care environments often requires a leap of faith, followed by a big culture shift.
That's because it involves giving more control over to individual employees and experimenting both with new ways of working and new processes and systems to ensure changes are practical and sustainable over the long term. Having someone own that change process can be the difference between success and failure.
Even if creating a dedicated role isn't feasible, Oli argued that Sona's customers have shown that empowering someone to lead flexible working initiatives can pay off big time through lower people costs and happier, more motivated teams who deliver better care and stay longer.
Watch Oli's keynote in full here.
BONUS: PONIES!
OK, this one isn't a practical tip, but after a visit to Beaucase to see therapy ponies Mr. P & Monet, we can vouch for their ability to improve your mood - just look at these smiles!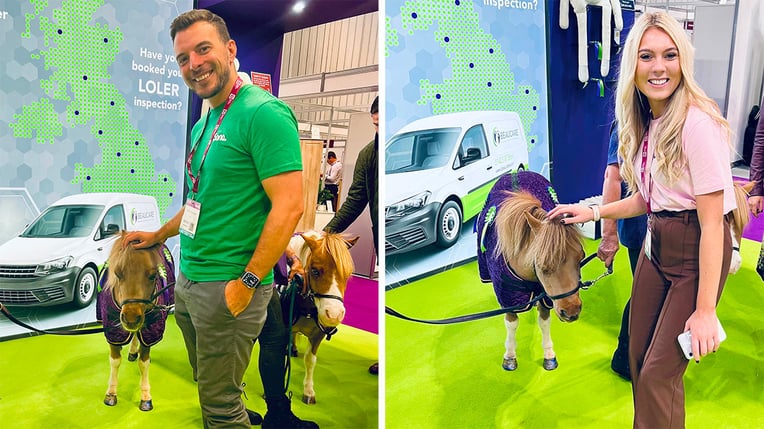 Aimen and Abbey with the stars of the Care Show
Enjoyed this article? Let's stay in touch 👋
If you liked this article, why not subscribe to our newsletter to get the latest news and views delivered straight to your inbox?